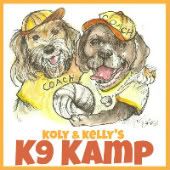 Well, I am very sad to say that I could not physically complete this week's challenge.  I have some very painful knee issues that inevitably flare up with the change of the seasons, so a fast-paced game of chase was not an option for me.  We did a lot of work on heeling at a walking pace, so maybe that counts?  I wish I could have done more, but it's been painful just to walk at a normal pace and if I push myself too hard, I will regret it!
I am so grateful to Peggy Frezon and Kolchak Puggle for organizing these K9 Kamp Challenges.  I have learned that both Lu and I could do more than I thought we could.  Incorporating my dogs into my exercise routine makes it more enjoyable and makes the time go by so much faster.  With winter coming, I will be able to take what I've learned and help the dogs burn off some energy while keeping myself active.   As I've said before, I'm definitely not a fan of "traditional" exercise methods, so I'm always interested in learning how to turn something boring into something fun!
I hope you were able to participate in some of the activities, too.  Give them a try – you'll be surprised at how much fun you'll have being silly with your pooch!  :)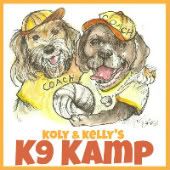 This week's challenge was to do 60 minutes of  Tug and Tone – a circuit of lunges, squats and sprints while playing tug of war with your dog.
We had a tough time getting the logistics of this one down.  Having small dogs made it tough to tug against them while doing a squat or a lunge.  I found that it was easier to do squats/lunges while my dogs were on the couch, as opposed to on the floor.   Better leverage, I guess?   Lu also likes to shake her head back and forth a lot while playing tug, so I had a hard time keeping my balance.
I have to admit, I let Lu cheat a little on this one.  I had a hard time keeping Lu's interest in tugging, so I alternated with Wally, who is a tug-o-holic!
We did 4 15-minute sessions.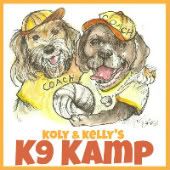 This week's K9 Kamp challenge was to play "fetch it yourself" for 60 minutes.
Because Wally is ball-obsessed and doesn't really allow Lu to retrieve a tossed toy, I had to be creative in finding a way for just Lu and I to have our own space.  I tied a long line to my belt loop and took her outside the fenced area of our yard.  Being tied together made for some awkward moments, but we were able to make it work.
This was such a great activity!  It sure got my heart pumping and Lu was beyond thrilled to be able to play fetch without Wally intruding. We broke our hour up into four 15 minute sessions, because that's about all either of us could do at one time. I had no idea how much exercise playing fetch could be!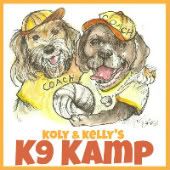 This week's K9 Kamp challenge was to walk 60 minutes with your dog.  With that in mind, we made plans to attend a weekly walk coordinated by our dog trainer.  It is a 2-mile walk with varying terrain around a local dam.  It usually takes us exactly an hour from start to finish.
When we arrived, it was 62 degrees and sunny – perfect walking weather.  We made it to the walk 1/2 hour early and did a 20 minute warm-up walk.   We decided to push ourselves and kept a brisk pace for the walk around the dam.  So brisk, in fact, that our normal 1 hour walk only took us 30 minutes!  (Apparently, we usually walk at a snail's pace!)
Lu was absolutely exhausted after the walk and fell asleep in the car on the ride home.
Luckily, we had done our normal 20 minute walk-around-the-block on Friday, or else we might not have completed the challenge.  In total, we walked 70 minutes between Friday and Sunday.
Did you get to take a walk this weekend?