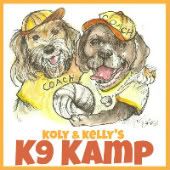 Well, I am very sad to say that I could not physically complete this week's challenge.  I have some very painful knee issues that inevitably flare up with the change of the seasons, so a fast-paced game of chase was not an option for me.  We did a lot of work on heeling at a walking pace, so maybe that counts?  I wish I could have done more, but it's been painful just to walk at a normal pace and if I push myself too hard, I will regret it!
I am so grateful to Peggy Frezon and Kolchak Puggle for organizing these K9 Kamp Challenges.  I have learned that both Lu and I could do more than I thought we could.  Incorporating my dogs into my exercise routine makes it more enjoyable and makes the time go by so much faster.  With winter coming, I will be able to take what I've learned and help the dogs burn off some energy while keeping myself active.   As I've said before, I'm definitely not a fan of "traditional" exercise methods, so I'm always interested in learning how to turn something boring into something fun!
I hope you were able to participate in some of the activities, too.  Give them a try – you'll be surprised at how much fun you'll have being silly with your pooch!  :)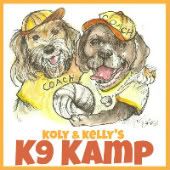 The final challenge in our K9Kamp adventure is to play chase!  We can handle this one!  LOL!  Well, that is, except for the fact that I'm supposed to be chasing her, too.
Lu gets terrified when I chase her.  She tucks her butt underneath her body and scoots away as fast as she can!  I suppose if I had someone 5 times my size chasing me, I might scoot my butt away pretty fast, too!  :p  So for this challenge, I'll just be having her chase me around the yard until we both run out of breath… (I have a feeling we'll be breaking this hour up in to quite a few sessions!  lol!!!)
This week's challenge was to "jump around" with your dog.  We got the challenge done in 4 sessions, but we modified the activities slightly.  It was raining all weekend, so we had to do everything in the house.
For each 15-minute session, we broke it down into three 5-minute activities.  For the first 5 minutes, we used the stairs and went up 3 stairs, then back down.  Then, I did 5 minutes of leg lifts across the kitchen and had Lu weave back and forth through my legs when I put my foot down and stepped forward. Finally, we did 5 minutes of jumping back and forth over a broomstick!  That sure got our hearts pumping! :)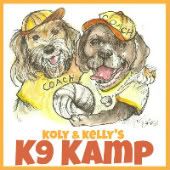 This week's challenge is to jump around with your dog.   Lu knows "on it", "off it", and "over", so we shouldn't have too much of a problem with this one.  It's just a matter of finding the motivation to git 'r done!  ;)
Here are the instructions:
1) Stepping Out
Stand in front of a curb (or the bottom step on stairs or a fallen log or whatever). With your dog, step up onto the curb, then back down, maintaining a steady right foot, left foot, right foot, left foot rhythm (confused? Check out this video.). Keep the leash tight, asking your pup to follow you up on to the curb each time. Repeat for two minutes at the fastest pace you can muster.
**Kol's Note: the Mama and I like to bring one of my favourite toys and play Keep Away in order to keep me interested in going up on the curb and back down over and over again. When we were just learning this exercise, the Mama even used to lure me with little itty bitty bites of chicken breast.
Sprint to the end of the yard/park/street with your dog and sprint back.
2) Knees Up!
Head back to the curb and start stepping again. This time, step up with your right foot, raise your left knee to waist height, then step back down. (Like this!) Do one minute on your right side then one minute on your left.
While you are stepping, practice some obedience with your pup. Asking them to do Puppy Push Ups (Sit-Down-Stand) while you step – or continue the game of keep away luring them up on the curb and back down.
Sprint to the end of the yard/park/street with your dog and sprint back.
3) Jump Around
Head back to your kamping spot and check out a good obstacle to jump over. Get a bit of a running/jogging start and get your dog to jump over the obstacle (or onto the obstacle then over). Jump with them! Try to jump as high as you can! Then continue running/jogging to the other end of your kamping space. Turn around and jump the obstacle again. Repeat for a minute or two.
*To make this more difficult, direct your dog to lay down after the jump. Jump as high as you can and then squat.
Repeat until you run out of time!
---
Want to join us for K9Kamp to get fit with your dog and enter to win some pawesome prizes?  It's not too late!  Check out Peggy's Pet Place and Kol's Notes for more information on the program.  Jump on in!  :)